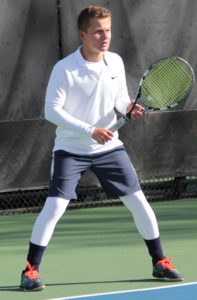 Athan Gregory of St. Joseph High School Tennis is the WSJM Sports Berrien County Student Athlete of the Week for the week of August 30, 2020.
To begin the season, Athan turned in straight set wins over Lakeshore, Portage Northern, and Kalamazoo Central at #3 Singles. He defeated Lakeshore 6-2, 6-0, then posted a 6-3, 6-1 win over Portage Northern, and then defeated Kalamazoo Central 6-0, 6-0.
Athan is also a member of the St. Joe Baseball team, National Honor Society, and Chamber Orchestra. He also serves as Vice President of the school's Student Foundation. In the classroom, he carries a 3.99 grade point average.
Athan is the son of Menel and Cali Gregory of St. Joe.
Another finalist for the week was Maya Hunter of St. Joe Golf.
Catch Phil McDonald's conversation with Athan below…
Podcast: Play in new window | Download | Embed
Subscribe: Apple Podcasts | Google Podcasts | Spotify | Stitcher | Email | RSS | More