Ashley Ke of St. Joseph High School Tennis is the WSJM Sports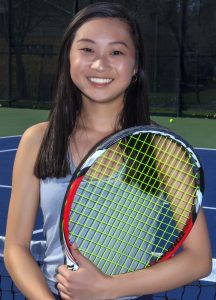 Berrien County Student Athlete of the Week for the week of May 13, 2018. At the Regional Tournament, Ashley won the #1 Singles Championship with victories over Gull Lake, Holland, and Mattawan. With her performance at Regionals, she improved to 20-0 on the season.
Ashley is also a member of the National Honor Society and is involved with Key Club, Student Foundations, and Show Choir. In the classroom, she carries a 3.99 grade point average.
Ashley is the daughter of Min and Leah Ke of St. Joseph.
Other finalists for the week were LA Smith of Watervliet Track, Kiki Msipa of Lakeshore Track, and Garrett Mullen of New Buffalo Track.
Congratulations to Ashley Ke from 95.7 & 1400 WSJM Sports.