Unity Christian 63, Benton Harbor 54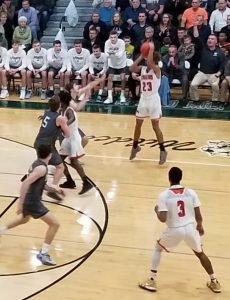 A furious comeback attempt fell short for defending state champion Benton Harbor as the Tigers fell to Hudsonville Unity Christian 63-54 in the Division 2 Regional Finals.
The Crusaders grabbed a nine point lead after the first quarter and eventually led by as many as 19. Benton Harbor fought all the way back to tie the game at 46. From there, Christian regained control and went on a 17-8 run and the Tigers couldn't answer.
Carlos Johnson led Benton Harbor with a game high 21 points and was the only Tiger to score in double figures. TJ VanKoevering paced Christian with 17 points.
With the loss, Benton Harbor ends the season at 22-2. The Crusaders advance to the state quarterfinals Tuesday in Kalamazoo.
INDIVIDUAL SCORING
UNITY CHRISTIAN
TJ VanKoevering – 17
Noah Wiswary – 11
Ryan Takens – 10
Zac Velthouse – 9
Chandler Collins – 6
Luke Snoeyink – 4
Evan Nieuwenhuis – 3
Derek Slager – 3
BENTON HARBOR
Carlos Johnson – 21
William Suggs – 9
Justin Brown – 8
Jamon Walker – 7
Chris Conway – 4
Quindarius Davis – 3
Kentrell Pullian – 2