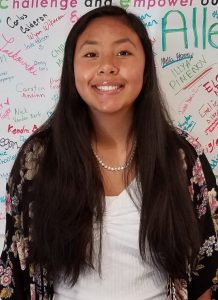 Aleena Keh of South Haven High School Volleyball is our WSJM Sports Van Buren/Cass Student Athlete of the Week for the week of October 13, 2019.
Aleena helped lead the Rams to a straight set win over Berrien Springs by turning in six aces, six kills, and four digs. She wrapped up the week with ten kills and 13 digs in a four set win over Paw Paw.
Aleena is also a member of the South Haven Soccer team and is on the honor roll. In the classroom, she carries a 4.08 grade point average.
Aleena is the daughter of Tony and Diana Keh of Bangor.
Another finalist for the week was Mallory Dorow of South Haven Volleyball.
Catch Aleena's conversation with Phil McDonald below…
Podcast: Play in new window | Download | Embed
Subscribe: Apple Podcasts | Android | Email | Google Podcasts | Stitcher | Spotify | RSS | More