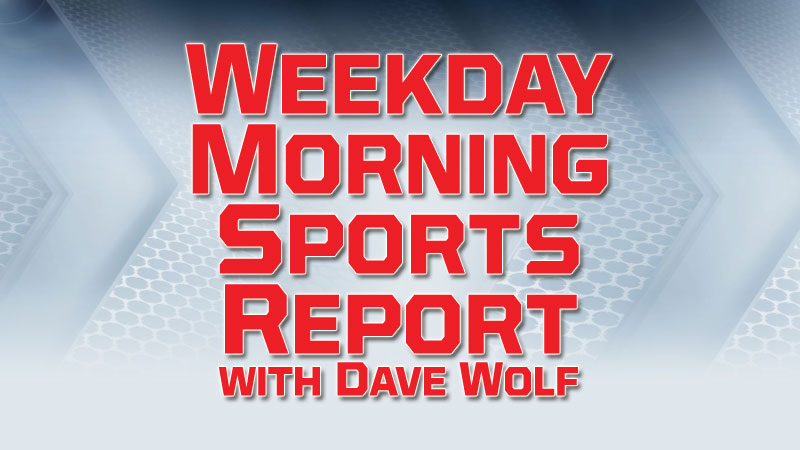 NCAAMBB – Men's College Basketball
Last Night
(18) Michigan 73, (8) Villanova 46
(11) Michigan State 80, Louisiana Monroe 59
(1) Duke 84, Eastern Michigan 46
Radford 63, Notre Dame 60
#18 Michigan 73, #8 Villanova 46 – Michigan routs Villanova in championship rematch
Charles Matthews scored 19 points, Ignas Brazdeikis had 18 and No. 18 Michigan beat No. 8 Villanova 73-46 in a national championship game rematch Wednesday night. Villanova captured its second title in three years with a 79-62 victory over Michigan in April but was completely overmatched in the second game at its newly renovated Pavilion.  Eric Paschall scored 10 points and Phil Booth had nine for the Wildcats (2-1). The Wolverines (3-0) jumped ahead early and never let up. They led 10-2 less than five minutes in and expanded the lead to 22-8 on Matthews' jumper midway through the opening half. A 17-3 run followed, giving Michigan a 39-13 lead. Matthews' dunk and consecutive 3-pointers from Isaiah Livers and Jordan Poole highlighted the run.  Matthews capped the impressive first half with a steal and layup to send Michigan to the locker room with a 44-17 lead.   Villanova's frustration was evident after Michigan's Zavier Simpson's flagrant foul led to a brief scuffle with Dhamir Cosby-Roundtree near midcourt with 13 minutes remaining and Michigan leading 52-24. The Wildcats couldn't make any push in the second half, and fans hit the road early.
#11 Michigan State 80, ULM 59 – No. 11 Michigan St pulls away, beats Louisiana-Monroe 80-59
Cassius Winston scored 14 of his 23 points in the opening minutes of the second half, bouncing back from a rough start to help No. 11 Michigan State beat Louisiana-Monroe 80-59 on Wednesday night.  The Spartans (2-1) lost Nick Ward midway through the first half with an injury. Ward went down and pounded the court with both fists. He got up on his own and hobbled off the court, trying to keep weight off his right leg. Ward did not return after scoring four points and grabbing three rebounds in five minutes.  Winston's surge helped Michigan State lead 51-35 at the 16:52 mark after it was ahead by just six points at halftime. He was 9 of 22 from the field, including 3 of 10 on 3-pointers, after going 2 of 9 overall and 0 for 5 beyond the arc in the first half. Joshua Langford scored 16 points while Xavier Tillman had 11 points and 13 rebounds for the Spartans.
#1 Duke 84, EMU 46 – Williamson, No. 1 Duke rout Eastern Michigan 84-46
Zion Williamson scored 21 points, fellow freshman RJ Barrett added 20 and No. 1 Duke routed Eastern Michigan 84-46 on Wednesday night in its first game this season as the nation's top-ranked team. Javin DeLaurier and Jack White added 10 points apiece for the Blue Devils (3-0). Playing two days after leapfrogging Kansas for the top spot in the AP Top 25, Duke looked every bit the part of a top-ranked team _ shooting 47 percent, turning 20 turnovers by the Eagles into 31 points and taking command with an early 21-1 run keyed by an assortment of dunks by Williamson. Damari Parris had nine points to lead outmanned Eastern Michigan (3-1), which shot 31 percent and was stuck in single-digit scoring for about 17 1/2 minutes.
Radford 63, ND 60 – Tanner's 3-pointers help Radford stun Notre Dame, 63-60
Caleb Tanner scored 20 points and fellow senior Ed Polite Jr. added 16 points as Radford stunned Notre Dame, 63-60, Thursday night.  Tanner was 7-of-11 shooting from the field, including 6 of 9 on 3-pointers for coach Mike Jones' Highlanders, now 3-0. Polite added 11 rebounds for a double-double and Travis Fields scored 11 points before limping off with 1:59 left. John Mooney, a 6-foot-9 junior forward, had career highs with 24 points and 12 rebounds for Notre Dame (2-1). He had 18 points in the first half, all from beyond the arc. He finished 8 of 16 from the field, including 6-of-9 shooting on 3-pointers. Teammate T.J. Gibbs added 11 points on 5-of-16 shooting but missed all eight 3-pointers. His final one, from past midcourt, missed everything at the buzzer.
Tonight
CSU Bakersfield at Central Michigan, 7:00 p.m.
NCAAWBB – Women's College Basketball
Tonight
Michigan at Western Michigan, 7:00 p.m.
NFL – National Football League – Week 11
Tonight
Green Bay Packers at Seattle Seahawks, 8:20 p.m.             95.7 & 1400 WSJM Sports 8:00
NFL – Lions put TJ Lang on injured reserve with neck injury
The Detroit Lions have put guard T.J. Lang on injured reserve with a neck injury. The Lions announced the move Wednesday. They also signed cornerback Mike Ford to the active roster from the practice squad and signed safety David Jones to the practice squad. Lang has missed three games this season, including last weekend's loss at Chicago. The 31-year-old lineman is in his second season with the Lions after playing eight with Green Bay. Lang signed a three-year deal with Detroit before the 2017 season, returning to his home area. He was born in Royal Oak, went to high school in Bloomfield Hills and went to college at Eastern Michigan. Detroit (3-6) has lost three straight, and the Lions have yielded 16 sacks in the past two games.
NBA – National Basketball Association
Last Night
Detroit Pistons 106, Toronto Raptors 104
Boston Celtics 111, Chicago Bulls 82
Pistons 106, Raptors 104 – Pistons stun Raptors 106-104 in Casey's return to Toronto
Reggie Bullock made the winning shot as time expired and the Detroit Pistons rallied from a 19-point deficit to beat the Toronto Raptors 106-104 on Wednesday night, giving coach Dwane Casey a victory over his former team. Blake Griffin had 30 points and 12 rebounds, Reggie Jackson and Langston Galloway each scored 13 and Stanley Johnson had 12 points for the Pistons, who had lost six of eight. Kawhi Leonard scored 26 points and Pascal Siakam and Greg Monroe each had 17 for the Raptors, who have lost consecutive home games after a 7-0 start. Toronto (12-3) also failed to match the best start in franchise history. The Raptors went 13-2 to begin the 2014-15 season.  Fans stood and cheered when Casey was introduced before the game, and roared in approval when a video tribute was shown during the first timeout. Players from both benches also stood and applauded as Casey acknowledged the crowd with a wave. Casey won 320 games in seven seasons with the Raptors, more than any other coach in franchise history. He was selected NBA Coach of the Year after Toronto set a team record with 59 wins last season, but had been fired by the time he received the award. Casey was let go after the Raptors were swept in the second round of the playoffs by Cleveland, their third straight postseason defeat at the hands of the Cavaliers.
Celtics 111, Bulls 82 – Irving scores 17 points, Celtics rout Bulls 111-82
Kyrie Irving had 17 points and seven assists as the Boston Celtics, back home from a dreadful road trip, routed the Chicago Bulls 111-82 on Wednesday night. Jaylen Brown scored 18 points and Jayson Tatum added 14 for the Celtics, who lost the final two games on a 1-4 swing that ended out West. Gordon Hayward scored 11 and Al Horford had 10 points and eight rebounds as all five Boston starters reached double figures.  Shaquille Harrison led Chicago with 16 points. Jabari Parker scored 14, all in the first quarter. Zach LaVine finished with 10 points and nine assists, and Wendell Carter Jr. had 11 points and seven rebounds.
NHL – National Hockey League
Last Night
Chicago Blackhawks 1, St. Louis Blues 0
Blackhawks 1, Blues 0 – Blackhawks stop 8-game slide by topping Blues 1-0
Jeremy Colliton got his first win as an NHL coach when Corey Crawford made 28 saves to help the Chicago Blackhawks beat the St. Louis Blues 1-0 on Wednesday night, stopping an eight-game losing streak. Chicago's slide began with a 7-3 loss at St. Louis on Oct. 27, and Colliton took over after Joel Quenneville was fired on Nov. 6. The Blackhawks then dropped his first three games behind the bench before shutting down the Blues in the opener of a three-game homestand.  Brent Seabrook got credit for the power play goal in the second period after his shot deflected off of St. Louis goalie Jake Allen, but then was kicked in by Blues teammate Jay Bouwmeester.  It was Crawford's first shutout in more than a year and No. 24 for his career.
Tonight
Detroit Red Wings at Ottawa Senators, 7:30 p.m.
NCAAFB – College Football – Week 12
Last Night
Ohio 52, Buffalo 17
Miami (OH) 13, Northern Illinois 7
Tonight
Toledo at Kent State, 6:00 p.m.
Tulane at Houston, 8:00 p.m.
Florida Atlantic at North Texas, 9:30 p.m.
NCAA – Graduation rates for NCAA athletics rise again
Graduation rates for NCAA athletes have reached a record high of 88 percent, according to data released by college sports' governing body. Graduation Success Rate data released Wednesday by the NCAA showed a 1-percentage point increase from 2017, with similar increases among men's basketball players (3 percentage points to 85) and FBS football players (1 percentage point to 79). Data was compiled for college athletes who entered school in 2011.  Graduation rates for black athletes were up 2 percentage points to 79 percent. Black men's basketball players, who reached an all-time GSR of 78 percent last year, increased an additional 4 points in 2018 to 82 percent. Since a series of academic reforms were passed by the NCAA from 2003-07, graduation rates for athletes have increased from 78 percent to 88 percent.
MLB – DeGrom. Snell take Cy Young awards
Jacob deGrom and Blake Snell have become first-time winners of the Cy Young Award. DeGrom took National League honors after going 10-9 with 269 strikeouts and a major league-leading 1.70 ERA for the Mets. He finished the season with 29 consecutive starts of allowing three runs or fewer, shattering the previous major league-record streak of 26.  Although deGrom's victory total is the lowest for any starter in his Cy Young season, he captured 29 of 30 first-place votes and 207 points to easily outdistance Washington ace Max Scherzer. Philadelphia's Aaron Nola was third in the voting by the Baseball Writers' Association of America. Scherzer went 18-7 with a 2.53 ERA and led the majors with 220 2/3 innings and 300 strikeouts.  DeGrom is the fourth Met to win the award, joining Tom Seaver, Dwight Gooden and R.A. Dickey.The writers also liked Snell, who was 21-5 with a 1.89 ERA and 221 strikeouts in 180 2/3 innings for the Rays. The left-hander claimed the American League Cy Young Award by pacing the majors in victories and posting the AL's top earned run average. Houston's Justin Verlander was second to Snell in the balloting after leading the AL with 290 strikeouts and going 16-9 with a 2.52 ERA. Indians ace Corey Kluber was a distant third in the balloting despite a 20-win season.
Olympics – Winter 2026 – Majority of Calgary voters say `no thanks' to 2026 Olympics
A majority of Calgary voters are saying "no thanks" to a potential bid for the 2026 Winter Olympics, and while the vote is nonbinding, the future of the bid appears bleak. Residents voted Tuesday on whether they wanted to pursue an Olympic bid, and 56 percent of voters chose "no." Unofficial results showed that out of 767,734 eligible voters, 304,774 cast ballots and 171,750 of those voted against the Olympic bid. The vote is expected to influence the city council, which has the final say on whether to move forward.  An end of the bid by Calgary, which hosted the Winter Olympics in 1988, would leave Stockholm and a combined bid from two Italian cities as the only remaining contenders for the 2026 games. The future of Stockholm's bid is also uncertain because the local government has balked at spending taxpayer money on the event. The Canadian Olympic Committee said in a statement it was disappointed by the results.
AHL – American Hockey League
Yesterday
Grand Rapids Griffins 3, Rockford IceHogs 1
ECHL – ECHL Hockey
Today
Kalamazoo Wings at Toledo Walleye, 10:35 a.m.