95.7 & 1400 WSJM Sports     @wsjmsports     wsjmsports.com     Wednesday, January 11, 2017
NCAAFB – Jabrill Peppers entering NFL after junior year at Michigan
Jabrill Peppers has decided to enter the NFL draft and skip his senior season at Michigan. The Heisman Trophy finalist announced his plans Tuesday. The 6-foot-1, 205-pound Peppers is projected to be a first-round pick in April. He did not play for the sixth-ranked Wolverines in a 33-32 loss to No. 10 Florida State on Dec. 31 in the Orange Bowl because of an injured left hamstring.  Peppers usually played linebacker, one of 15 positions the team says he played last season on defense, offense and special teams. Peppers won the Hornung Award as the nation's most versatile college football player. Michigan (10-3) finished #10 in the final Associated Press college football poll.
NHL – National Hockey League
Last Night
Chicago Blackhawks 4, Detroit Red Wings 3 (OT)
Blackhawks 4, Red Wings 3 (OT) – Keith's OT power-play goal lifts Blackhawks past Red Wings
Duncan Keith scored a power-play goal 38 seconds into overtime, lifting Chicago to a 4-3 win over the Detroit Red Wings on Tuesday night for the Blackhawks' fourth straight victory. Keith, who also had an assist, beat Petr Mrazek with a rising screened shot from the top of the slot. The man advantage was set up when Justin Adbelkader was called for boarding Chicago's Niklas Hjalmarsson with 15.2 seconds left in the third. Richard Panik also had a goal and assist for Chicago, while Brian Campbell and Tanner Kero each scored. Ryan Hartman added two assists. Corey Crawford stopped 33 shots. Andreas Athanasiou, Tomas Tatar and Luke Glendening had Detroit's goals in regulation. Mrazek had 39 saves as the Red Wings fell to 2-2-2 on a season-high seven-game road trip.
NBA – National Basketball Association
Last Night
Washington Wizards 101, Chicago Bulls 99
Sacramento Kings 100, Detroit Pistons 94
Wizards 101, Bulls 99 – Wizards above .500 after Wall keys 101-99 win over Bulls
John Wall scored 26 points, including a game-winning baseline jumper with 5.9 seconds left, and added 14 assists as the Washington Wizards moved above .500 with a 101-99 victory over the Chicago Bulls on Tuesday night. Marcin Gortat had 10 points and 12 rebounds for Washington (19-18). He also set the screen that freed up Wall for his jumper to seal a 10th straight home win. Markieff Morris and Bradley Beal each added 19 points for the Wizards, who completed their biggest comeback victory of the season after trailing by 18 in the second quarter. Washington is above .500 for the first time in more than a year. A season ago, the Wizards were 6-5 after a victory on Nov. 24, 2015.
Kings 100, Pistons 94 – Cousins scores 24, Kings come back to beat Pistons 100-94
DeMarcus Cousins had 24 points, 13 rebounds and six assists to help the Sacramento Kings stage a fourth-quarter comeback in defeating the Detroit Pistons 100-94 on Tuesday night. The Pistons led by nine entering the fourth, when they were outscored 32-17. The win snapped a three-game losing streak for the Kings, who had lost five of six since winning a season-high four straight.  Anthony Tolliver added 17 points for Sacramento. Kosta Koufos scored 10 of his 12 in the final period. Rudy Gay and Garrett Temple both finished with 11. The Kings closed the game with an 11-2 run, and Detroit went scoreless over the final 1:15. They made four 3-pointers in the fourth and were 13 of 24 overall from beyond the arc.
NBA – Rose fined, back with Knicks
Derrick Rose has been fined by the Knicks after he missed Monday's loss to New Orleans for what he says were family reasons. Rose is expected to be in uniform for Wednesday's game in hiladelphia.  The 2011 NBA MVP is averaging 17.3 points this season but had been on the bench for the fourth quarters in the previous two games before Monday.
NCAAMBB – Men's College Basketball
Last Night
Western Michigan 90, Toledo 74
Akron 89, Central Michigan 85
Eastern Michigan 81, Bowling Green 53
WMU 90, Toledo 74 – Western Michigan shoots 70 percent in win over Toledo
Reggie Jones scored 20 points on 7-of-8 shooting and Western Michigan earned its first conference victory of the season 90-74 over Toledo on Tuesday night. All five starters finished in double figures for the Broncos (5-10, 1-2 MAC). Thomas Wilder scored 19 points and added nine assists, Drake LaMont finished with 13 points, while Brandon Johnson and Tucker Haymond each added 12.
Akron 89, CMU 85 – Johnson scores 33, Akron beats Central Michigan 89-85
Isaiah Johnson scored a career-high 33 points, including the 1,000th point of his career, Kwan Cheatham Jr. scored 19 with a career-high 13 rebounds, and Akron beat Central Michigan 89-85.
EMU 81, BGSU 53 – Eastern Michigan beats Bowling Green behind strong 2nd half
Willie Mangum IV scored 19 points, James Thompson IV had 16 points and 11 rebounds, and Eastern Michigan beat Bowling Green 81-53 last night.
Tonight
(24) Minnesota at Michigan State, 7:00 p.m.                    Superhits 103.7 Cosy-FM 6:00
Michigan at Illinois, 9:00 p.m.                                          95.7 & 1400 WSJM Sports 8:30
NCAAMBB – New number 1 falls in first game as number 1
Baylor was a loser in its first-ever game as the top team in The Associated Press men's basketball poll. No. 10 West Virginia has handed Baylor its first loss of the season as Nathan Adrian broke out of a shooting slump with a career-high 22 points in an 89-68 pounding of the Bears. Second-ranked Kansas is in position to take over the top spot in the poll after Frank Mason scored 19 of his 28 points in the second half of the Jayhawks' 81-70 win at Oklahoma.
NCAAWBB – Women's College Basketball
Last Night
Michigan 78, Indiana 74
Michigan State 94, (11) Ohio State 75
Michigan 78, Indiana 74 – Thome, Flahery, and Gondrezick lead Michigan over IU
Michigan had four players in double figures. Led by Hallie Thome with 21 points, Katelynn Flaherty and Kysre Gondrezick with 17 each and Siera Thompson with 10 as Michigan beat Indiana 78-74.
MSU 84, #11 Ohio State 75 – Jankoska sets 2 records in Michigan State's 94-75 win
Tori Jankoska scored 42 points, breaking the Spartans' single-game and all-time scoring records in a 94-75 upset victory over No. 11 Ohio State on Tuesday night.
Tonight
Bowling Green at Western Michigan, 7:00 p.m.
Ball State at Central Michigan, 7:00 p.m.
Eastern Michigan at Miami (OH), 7:00 p.m.
NCAAWBB – Autopsy: Northwestern basketball player took her own life
The Cook County medical examiner says Northwestern women's basketball player Jordan Hankins killed herself in her dorm room earlier this week. The office released the results of an autopsy on Tuesday, a day after the body of the 19-year-old Hankins was found. Hankins was recruited out of Lawrence North High School in Indianapolis. She averaged 3.6 points in 11 games this season. Coach Joe McKeown called the 5-foot-8 sophomore a "remarkably dynamic young woman." Because of the tragedy, Northwestern's game against Minnesota on Wednesday has been canceled.
MLB – Cubs agree to 3-year extensions with TV broadcasters
The World Series champion Chicago Cubs have agreed to three-year contract extensions through 2019 with television play-by-pay announcer Len Kasper and analyst Jim Deshaies. Kasper and Deshaies have been working together the past four seasons. The 45-year-old Kasper was hired in 2005 and is entering his 13th season calling play-by-play on Cubs telecasts. He previous called games for the Milwaukee Brewers and Florida Marlins. Deshaies joined the Cubs' TV booth in 2013 after 16 seasons as an analyst with the Houston Astros. He pitched 12 seasons in the majors, including seven with the Astros. The Cubs announced the extensions on Tuesday.
NASCAR – AP Sources: Edwards to leave NASCAR
It appears that Carl Edwards has made his final left turn in NASCAR competition. Two people with knowledge of the situation have told The Associated Press that Edwards is retiring from the sport less than two months after nearly winning his first Cup championship.  Joe Gibbs Racing has scheduled a pair of news conferences Wednesday during which Edwards is expected to announce he is giving up the sport immediately and that reigning Xfinity Series champion Daniel Suarez will replace Edwards in the No. 19 Toyota.  The 37-year-old Edwards was leading all championship contenders in the 2016 season finale at Homestead-Miami with 10 laps remaining until a caution set up a restart that bunched the field.  Edwards tried to block Joey Logano's attempt to take the lead, and it caused a crash that ended Edwards' title bid.  Edwards won three races in 2016 as JGR dominated the regular season and put two drivers in the final four. He spent 13 years in the Cup Series and has 28 career victories in 445 starts.
FIFA – 2026 World Cup – World Cup expands
FIFA will expand the World Cup to 48 teams, adding 16 extra nations to the 2026 tournament, which is likely to be held in North America. President Gianni Infantino's favored plan has been unanimously approved by the FIFA Council. The new format will have 16 three-team groups with the top two advancing to a round of 32. With 80 matches instead of 64, FIFA forecasts the equivalent of $1 billion extra income at current rates from broadcasting and sponsor deals, plus ticket sales. FIFA projects an increased profit of $640 million despite some extra operating costs and prize money for teams.
Tennis – Sharapova return set
Maria Sharapova will return from her 15-month doping ban at a tournament in Germany in April.  The five-time Grand Slam titlist has been given a wild-card entry into the tournament, which will be her first official competition since she tested positive for meldonium at last year's Australian Open. The 29-year old Sharapova will be eligible to return on April 26, the third day of main-draw play. She's won the Stuttgart tournament three times.
MCCAA – Junior College Basketball
Tonight
Lake Michigan College at Jackson Community College, 5:30 (Women)/7:30 p.m. (Men)
AHL – American Hockey League
Tonight
Milwaukee Admirals at Chicago Wolves. 8:00 p.m.
ECHL – East Coast Hockey League
Tonight
Tulsa Oilers at Kalamazoo Wings, 7:00 p.m.
Toledo Walleye at Wheeling Nailers, 7:05 p.m.
NBADL – NBA Developmental League
Tonight
Windy City Bulls at Erie Bayhawks, 7:00 p.m.
Grand Rapids Drive at Salt Lake City Stars, 9:00 p.m.
MHSAA – High School Sports
Last Night
Boys Basketball
SMAC
St. Joseph 58, Gull Lake 43
–St. Joseph picked up their first home win of the season after defeating Gull Lake 58-43 at the Bear Den in St. Joe.  Carter Scramlin had a team and game high 14 points for the Bears.  Trevor Dilley came off the bench and added 12 in the victory.  St. Joe improves to 2-3 and will travel to Niles on Friday night.
Lakeshore 56, Kalamazoo Loy Norrix 43
–Max Gaishin led the Lancers with 18 points to lead all scorers, Colin Brushwyler added 13 points for Lakeshore in a 56-43 win over Kalamazoo Loy Norrix.  DJ Swift had 17 to lead Loy Norrix.
Mattawan 47, Niles 30
Portage Central 67, Battle Creek Lakeview 32
Kalamazoo Central 71, Portage Northern 36
Non-Conference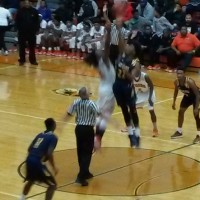 Benton Harbor 55, Battle Creek Central 45
–A strong third quarter propelled Benton Harbor to a 55-45 win over Battle Creek Central last night.  The Tigers held a two point advantage at the end of the first quarter and at the half, but then outscored the Bearcats 12-4 in the pivotal third quarter.  Shawn Hopkins led Benton Harbor with a game high 14 points.  Roy Anderson and Elijah Baxter each added ten.  With the win, the Tigers improve to 8-0 on the season while Central falls to 6-2.
Cassopolis 68, Eau Claire 63
–Tyrese Hunt-Thompson scored 28 points to help lead Cassopolis to a 68-63 win over Eau Claire.  Eau Claire's Dorrian Thomas had 31 points to earn game high honors.
North Muskegon 65, Saugatuck 47
Wolverine
Dowagiac 60, South Haven 51
–Jamin Hunt had 18 points for Dowagiac as the Chieftains upended South Haven 60-51.  DaShawn Palmer led all scorers with 27 points for the 6-3 Rams, who head to Edwardsburg Friday night.
Otsego 60, Edwardsburg 45
Three Rivers 73, Allegan 57
Paw Paw 52, Sturgis 41
Plainwell 62, Vicksburg 59
BCS
Lake Michigan Catholic at Berrien Springs – PPD 1/11
Bronson 52, Comstock 46
Dream Academy 75, River Valley 42
Athens 49, Mendon 39
SAC
Gobles 59, Coloma 58 (OT)
Hartford 71, Bangor 56
–Hartford had three players in double figures at the Indians defeated Bangor 71-56.  Will Martinez led all scorers with 23 points, Austin Nelson scored 20, and Garrod Johnson added 16 in Hartford's victory.
Fennville 82, Watervliet 38
Kalamazoo Hackett 50, Schoolcraft 39
Kalamazoo Christian 49, Delton-Kellogg 43
Constantine 50, Galesburg-Augusta 44
Girls Basketball
SMAC
St. Joseph 45, Gull Lake 41
–St. Joe trailed Gull Lake entering the final quarter but the Lady Bears rallied and outscored the host Blue Devils 16-8 in the final 8 minutes for a 45-41 win in Richland.  Anna Fischer scored 14 points to lead St. Joseph, who improved to 6-2 on the season.  Shelby Madison added 10 in the Bears win.
Lakeshore 38, Kalamazoo Loy Norrix 23
Mattawan 62, Niles 59 (2 OT)
–Despite 21 points from Alycia Patterson, Niles suffered at 62-59 double overtime loss to Mattawan.  Natalie Foster had a game best 22 points to lead Mattawan.
Battle Creek Lakeview 42, Portage Central 37
Non-Conference
Battle Creek Central 55, Benton Harbor 27
–Shalia Perkins had 9 points in the Lady Tigers 55-27 loss at Battle Creek Central.  Benton Harbor falls to 1-8 and will face Lakeshore on Friday.
Wolverine
South Haven 43, Dowagiac 39
–Frances Lyons had a game high 17 points in South Haven's 43-39 win at Dowagiac.  Tania Wilson led Dowagiac with 9 points before fouling out in the final quarter.
Otsego 56, Edwardsburg 48
Allegan 39, Three Rivers 26
Paw Paw 61, Sturgis 50
Plainwell 51, Vicksburg 47
BCS
Lake Michigan Catholic at Berrien Springs – PPD, TBD
Comstock 47, Bronson 27
Centreville 33, Bridgman 15
Brandywine 64, New Buffalo 25
SAC
Watervliet 53, Fennville 22
–Casie Gohr had 18 points and 8 rebounds, Ariana Rowe scored 10 as Watervliet beat Fennville 53-22.  Watervliet improves to 6-3 on the season.
Hartford 53, Bangor 22
–Hartford got a game high 12 points from Cora Wesaw as pulled away for a 53-22 win over Bangor.
Lawton 46, Marcellus 37
Schoolcraft 45, Kalamazoo Hackett 42 (OT)
Kalamazoo Christian 65, Delton Kellogg 50
Galesburg-Augusta 49, Constantine 45
Tonight
Boys Basketball
Lake Michigan Catholic at Berrien Springs, 7:30 p.m.